Action Learning Research: A Systematic Review and Conceptual Framework
Action Learning Research: A Systematic Review and Conceptual Framework
By: Yonjoo Cho and Toby Marshall Egan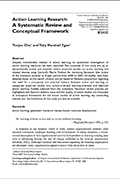 Despite considerable interest in Action Learning, no systematic investigation of Action Learning literature has been reported. Studies selected from the systematic literature review process are highlighted, and Revans's balance issue and the quality of select studies are discussed. A conceptual framework for the future studies of action learning, key concluding themes, and the limitations of the study are also articulated.
Tags: Action Leaning, WIAL
Trackback from your site.
Peter Thailand
CALC since 2013 and started up WIAL Thailand !