Aim for the Fairway with Action Learning
Aim for the Fairway with Action Learning
By: Dr. Bea Carson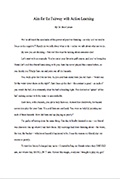 We've all heard the accolades of the power of positive thinking. So why is it we tend to focus on the negative?! Rarely do we talk about what to do, rather we talk about what not to do.
Tags: Action Leaning, WIAL
Trackback from your site.
Peter Thailand
CALC since 2013 and started up WIAL Thailand !