Take Your Business to the Next Level
Take Your Business to the Next Level
By: Jayan Warrier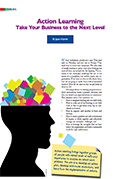 Action Learning brings together groups of people with varied levels of skills and experience to analyse an actual work problem. The aim is to develop an action plan, develop mid-course corrections, and learn from the implementation of actions.
Tags: Action Leaning, WIAL
Trackback from your site.
Peter Thailand
CALC since 2013 and started up WIAL Thailand !