The Coach as Catalyst for Action Learning
The Coach as Catalyst for Action Learning
By: Dr. Michel Marquardt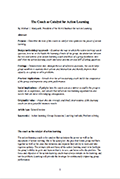 Examines the way in which the Action-Learning coach operates, how he or she builds the learning climate of the group, the distinction between the role and actions of an action-learning coach and those of a group facilitator, how and when the action-learning coach intervenes and the art and skill of asking questions.
Tags: Action Leaning, WIAL
Trackback from your site.
Peter Thailand
CALC since 2013 and started up WIAL Thailand !