The ROTAR Discipline – Enhancing the Power of Action Learning
The ROTAR Discipline – Enhancing the Power of Action Learning
By: Dr. Billy Coop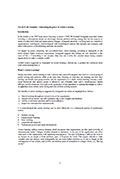 Simply described, Action Learning is both a process and a powerful program that involves a small group of people solving real problems while at the same time focusing on what they are learning and how their learning can benefit each group member and the organization as a whole.
Tags: Action Leaning, WIAL
Trackback from your site.
Peter Thailand
CALC since 2013 and started up WIAL Thailand !