WIAL Newsletter Q1 2018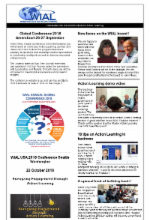 More details about The WIAL Global Conference in 2018 are released, Meet the new WIAL Board Members, WIAL USA 2018 Conference in Seattle Washington date is set, Read how students are helping themselves, and more!
Trackback from your site.
Peter Thailand
CALC since 2013 and started up WIAL Thailand !